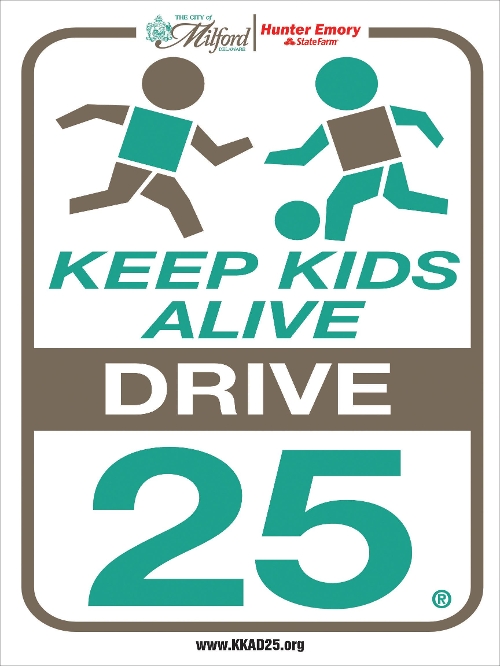 Aug 3, 2022
City of Milford Kicks Off Drive 25 Campaign
The City of Milford will kick off a KEEP KIDS ALIVE DRIVE 25® campaign at National Night Out on Tuesday, August 2 (6-8pm) in Bicentennial Park. Residents who live on a 25-mph road within city limits can apply through MyMilford (http://cityofmilford.com/535/MyMilford) for a branded yard sign to be placed in their yard.
The mission of KEEP KIDS ALIVE DRIVE 25® is to make streets safer for all who walk, cycle, play, drive, and ride. Doing so preserves lives and relationships.
"We've heard the community's concerns regarding speeding in our residential neighborhoods," said Sara Bluhm, City of Milford Economic Development and Community Engagement Administrator, "and while our engineering division is working with DelDOT to evaluate traffic calming devices, we wanted to find a more immediate solution. The KEEP KIDS ALIVE DRIVE 25® campaign is the perfect way to get residents involved and encourage drivers to be mindful of their speed in residential areas, especially where children could be present."
State Farm is a national sponsor of the KEEP KIDS ALIVE DRIVE 25® organization and local agent Hunter Emory is sponsoring in-part Milford's signs, making them free to qualifying residents. Requests will be reviewed on a first come, first serve basis. In an effort to spread the signs around the City, staff will not fulfill a sign request within close proximity to an already requested sign.
"As a local State Farm Insurance Agent, a parent of two young active children, and a member of the Milford community, we knew right away this is a cause we could get behind," said Hunter Emory, local State Farm Agent in Milford. "We saw the KEEP KIDS ALIVE DRIVE 25® program as a new way to stress the awareness for better driving habits while moving through our residential communities. So many new families have made Milford their home and we hope these signs will help contribute to making our community safer for all those in it."
About the City of Milford: (www.cityofmilford.com) The City of Milford, incorporated in 1807 and located in Kent and Sussex Counties along the Mispillion River, is home to 11,000+ year-round residents, 500+ retail businesses and non-profits, local restaurants, parks, trails, small town events, major healthcare providers, an historic shipyard, and its own school district. Known throughout the state as River Town, Art Town, Home Town, the City celebrates the beauty of its natural resources, the ingenuity of its people and its commitment to quality of life.
About KEEP KIDS ALIVE DRIVE 25®: (https://www.keepkidsalivedrive25.org/) KEEP KIDS ALIVE DRIVE 25® is a public awareness campaign targeting observance of the speed limit in residential neighborhoods. In most communities throughout the U.S., the residential speed limit is 25 mph. We are a non-profit educational organization committed to addressing neighborhood and communitywide traffic safety issues. Our goal is to be a nation-wide campaign. KEEP KIDS ALIVE DRIVE 25® is present in over 1000 communities representing almost all 50 states.