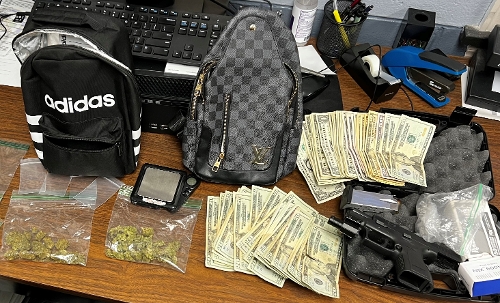 Apr 19, 2022
Vehicle Stop Results in Drugs and Weapon Charges
On April 15, 2022 at approximately 1524 hours, a Milford Police Department Officer was on routine patrol in the area of North St and NW 2nd St, Milford, Kent County, DE. The officer observed a Silver Chevrolet Malibu turn northbound onto North Street from NW 2nd Street with dark window tint. Through investigative means, the officer confirmed that the vehicle did not have a tint waiver. The officer initiated a traffic stop on the vehicle.
The officer made contact with the operator of the vehicle, identified as Donald Pierre, 25 of Milford, DE. While the officer was speaking to Pierre, he smelled the odor of marijuana coming from the vehicle. A subsequent search of the vehicle resulted in the discovery of 20.8 grams of marijuana, drug paraphernalia, and a loaded Springfield handgun along with additional 9mm ammunition located inside the vehicle.
During a search of Pierre, officers located a large sum of U.S. Currency on his person. Further investigation revealed that Pierre had a suspended driver's license and a court capias out of Justice of the Peace Court 6. Pierre was taken into custody and transported back to Milford PD where he was charged with:
Possession of a Firearm During the Commission of a Felony (Felony)
Possession With Intent to Deliver a Controlled Substance (Felony)
Possession of a Firearm By a Person Prohibited (Felony)
Driving While Suspended or Revoked
Possession of Drug Paraphernalia
Window Tint Violation
Pierre had a presentment through Justice of the Peace Court 7 where he was released on unsecured bail with preliminary hearing scheduled in the Kent County Court of Common Pleas at a later date.
You can follow the Milford Police Department on Facebook, Nextdoor, Twitter and Instagram.
Released by Public Information Officer, Sgt. Timothy Maloney
Incident #: 51-22-3786
Released: 04/19/2022