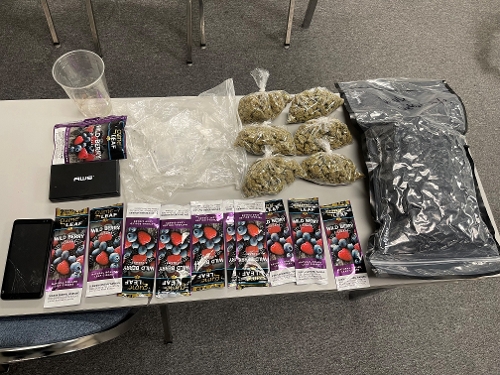 Mar 1, 2023
Investigation Into a Firearm Discharge Leads to Multiple Charges for Milford Man
On February 24, 2023, at approximately 1:50 pm, officers from the Milford Police Department responded to the BP gas station in the 600 block of Northwest Front Street (SR 14) to a report of an individual discharging a firearm in the store. The investigation revealed a male suspect placed an item for purchase on the counter and as doing so, discharged a handgun in his pocket towards the ground. The suspect fled the store and a subsequent search located him in a vehicle being driven on Lakeview Avenue (SR 36). A stop of the vehicle located Damian J. Lee, 24 of Milford, who was later identified as the individual in the store who discharged the firearm. Further investigation during the stop located 840.7 grams of suspected marijuana. As a result of the investigation, a search warrant was obtained for Mr. Lee's residence on Linstone Lane. The search warrant resulted in 60.8 grams of additional marijuana being located, drug paraphernalia, and a stolen firearm.
Mr. Lee has been charged with Possession of a Firearm During the Commission of a Felony, Possession with the Intent to Deliver a Controlled Substance, Carrying a Concealed Deadly Weapon, Possession of a Controlled Substance in a Tier 1 Quantity, Possession of Marijuana Other Than Personal Use Quantity, three counts of Endangering the Welfare of a Child, and Possession of Drug Paraphernalia.

Mr. Lee was presented at the Justice of the Peace Court #2, where bail was set at $85,300.00 cash only.

Mr. Lee was committed to the Sussex Correctional Institution and is scheduled to appear at the Kent County Court of Common Pleas on March 10th for a Preliminary Hearing.