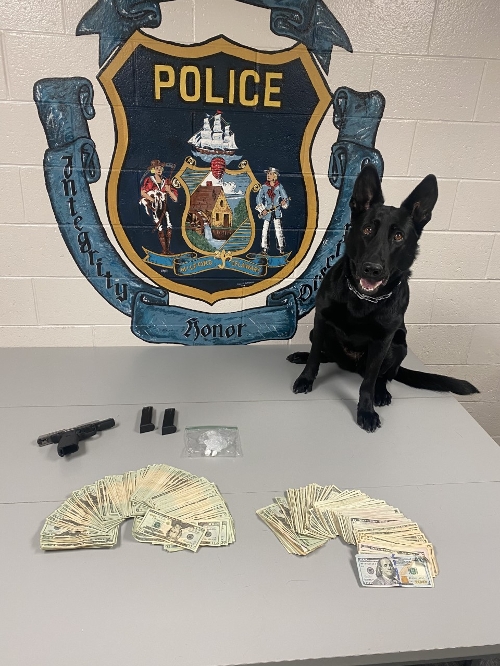 Feb 22, 2023
Impaired Driving Investigation Leads To Multiple Charges For Smyrna Man
On February 18th 2023 Milford Police arrested Bernard H. Williams Jr, 44 of Smyrna, following an investigation that was initiated by a traffic stop on North DuPont Boulevard (US Rt 113). At approximately 3:24 am, an officer assigned to the Patrol Division observed a vehicle travelling southbound in the northbound lanes on North DuPont Boulevard, in the area of Northwest Front Street (SR 14). A subsequent stop of the vehicle and further investigation, that included standardized field sobriety tests, led to Mr. Williams being taken into custody. As a result of the investigation, which included the utilization of the K9 Unit, 4.3 grams of cocaine, loaded .40 cal handgun, a fixed baton, and an undisclosed amount of United States Currency was seized. Mr. Williams has been charged with Possession of a Deadly Weapon During the Commission of a Felony, Possession of a Firearm During the Commission of a Felony, Possession of a Firearm by Person Prohibited, Possession of Ammunition by Person Prohibited, two counts of Carrying a Concealed Deadly Weapon, 4th Offense Driving a Vehicle Under the Influence of Alcohol, Possession of a Controlled Substance, two counts of Fail to Remain Within a Single Lane, Driving the Wrong Way on a One Way Road, and Stop, Park, or Leave Standing any Vehicle Upon a Roadway.
Mr. Williams Jr. was presented at the Justice of the Peace Court #7, where bail was set at $60,540.00 secured.

Mr. Williams was committed to the Sussex Correctional Institution and is scheduled to appear at the Kent County Court of Common Pleas on February 24th, 2023 for a Preliminary Hearing.